The Vampire Diaries
is a supernatural drama televison series developed by Kevin Williamson and Julie Plec, based on the book series by L.J Smith. The series premiered on The CW on September 10, 2009. The series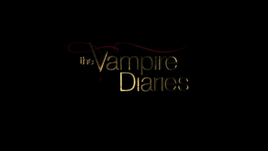 takes place in the fictional town of Mystic Falls, Virginia, which is supernaturally charged--attracting vampires, werewolves and witches. The main focus is on the love triangle between Elena Gilbert, a high school teen, Stefan, a 163-year-old vampire, and his brother, Damon, who is also a vampire. As the series progresses, the focal point shifts on the mysterious past of the town involving Elena's malevolent doppleganger Katherine Perice and the family of Original Vampires, all wich have an evil agenda of their own.
The pilot episode attracted the largest audience of any series premiere since the network began in 2006. During its course it maintained admirable ratings for a show that airs on a relatively new, small and not so famous network. The first season averaged 3.60 million viewers. The show initially recieved average reviews, but critics agreed that the series improved over the course of the season with both the second and the third. The show has recieved numerous award nominations winning two Teen Choice Awards. On April 26, 2011, The CW renewed the series for a third season which began on September 15, 2011.
On May 3, 2012, The CW renewed the series for a fourth season to premiere on October 11, 2012.
Series overview
Edit
The series follows the life of Elena Gilbert, a 17-year-old girl who falls for a 162-year-old vampire named Stefan. Their relationship becomes increasingly complicated as Stefan's vicious and malevolent older brohter, Damon, returns to Mystic Falls to wreak havoc on the town and a revenge against his brother. Both brothers begin to show affection towards Elena, mainly because of her resemblence to her best love Katherine Peirce, who is responsible for turning the brothers into vampires in the first place. It is revealed that Elena is a descendant from Katherine, who eventually returns with plans agains the trio.
The series is set in Mystic Falls, Virginia, which is a hot-spot for vampires, werewolves and other supernatural beings. Other storylines revolve around the inhabitants of the town--most notably Elena's younger brother Jeremy, her best friends Bonnie and Caroline and their mutual friends Tyler Lockwood and Matt Donovan. The town's polotics are orchestrated by descendants of the original fouding families, all comprising a "Founder's Council". Some of the founding families of Mystic Falls include Salvitores, Gilberts, Fells, the Forbes and the Lockwoods. They guard the town mainly from vampires, although there are other supernatural threats such as werewolves, witches, ghosts and hybrids.
Although the show is based on the books of the same name, many characters are changed, although the main story lines from the original books are maintained. Beginning in season one, ten characters recieved star billing, with one being written out and another being promoted.
Nina Dobreve plays Elena Gilbert, the main protagonist also plays doppleganger Katherine Perice, also known as Katerina Petrova, on of them main antagonists. Paul Wesley plays Stefan Salvatore, a good-hearted and affectionate vampire, and the complete opposite of older, vampire brother Damon, who's played by Ian Somerhalder. Later in the series, Stefan reverts to his old ways as a Ripper and his role becomes more antagonistic.
Other cast members include Steven R. McQueen, who plays Jeremy Gilbert, Elena's younger brother, later revealed to be the biological cousin, with Sara Canning acting as Jeremy and Elena's legal guardian, Jenna Sommers, who is killed at the end of the second season after being turned into a vampire, but then is later staked. Katerina Graham plays Bonnie Bennett, Elena's best friend who is also a witch. Candice Accola who plays Caroline Forbes, Elena's other best friend who was insecure and her occasinal rival at first, but is turned into a vampire in the second season. Zach Roerig plays Matt Donovan, Elena's childhood friend and ex-boyfriend, who later becomes romantically involved with Caroline. Michael Trevino plays Tyler Lockwood, a werewolf turned into a hybrid, Jeremy's rival, Matt's bestfriend and son of mayor of Mystic Falls. Kayla Ewell plays Vicki Donovan, Matt's troubled sister and girlfriend of Tyler and Jeremy. She was written out of the show in the seventh episode of the first season after being turned into a vampire by Damon and then killed by Stefan. Soon afterwards, Matthew Davis joins the cast as Alaric Saltzman, a history teacher, vampire hunter and love interset for Jenna Sommers. Joseph Morgan joins the main cast in season three as Klaus, one of the Original Vampires and one of the antagonists of season three. On August 7, 2012 it was announced that Phoebe Tonkin and newcomer, Adam Kahn will join the show as recurring characters for the fourth season. Phoebe will play Hayley, a friend of Tyler's. Adam will play Leon, a vampire and friend of Damon Salvatore.
Nina Dobrev as Elena Gilbert: A 17-year-old doppleganger who falls in love with Stefan Salvatore—a vampire.
Paul Wesley as Stefan Salvatore: A 500-and-something-year-old vampire who returns to Mystic Falls, Virginia and falls in love with the mortal Elena Gilbert.
Ian Somerhalder as Damon Salvatore: Stefan's malevolent older vampire brother who returns to Mystic Falls after Stefan to wreak havoc on his life, but in the process, falls in love with Elena as well.
Steven R. McQueen as Jeremy Gilbert: Elena's 16-year-old brother who starts off as a drug addict and trouble maker, but matures more as the series progresses.
Sara Canning as Jenna Sommers: Elena and Jeremy's aunt who takes over as their legal guardian after the death of their parents.
Kat Graham as Bonnie Bennett: Elena's best friend and witch.
Candace Accola as Caroline Forbes: Elena's good friend who later becomes a vampire.
Zach Roerig as Matt Donovan: Elena's childhood best friend and ex-boyfriend.
Michael Trevino as Tyler Lockwood: A werewolf and love interest for Caroline.
Kayla Ewell as Vicki Donovan: Matt's troubled sister who becomes a vampire on the account of Damon.
Matt Davis as Alaric Saltzman: History teacher at Mystic Falls' high school, friend of Elena, Bonnie, Caroline and Matt and vampire hunter.
Joseph Morgan as Klaus: One of the Original Vampires and main antagonist of the third season.
Former president of entertainment at The CW, Dawn Ostroff, has mentioned a spin-off idea that could happen in a few years. A spin-off was in development for the 2011 fall line up, but due to Kevin Williamson's commitment to The Secret Circle, it was put on hold indefinitely.