The Struggle

Author
L.J Smith
Publication date
1991
Published by
HarperTeen
Publication Order
Preceded by
The Awakening
Followed by
The Fury
The Fury
is the second book of
The Vampire Diaries
book series by L.J Smith. It was published in 1991 by HarperTeen.
Storyline
Edit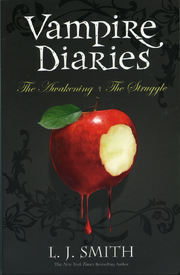 Picking up where 'The Awakening' left off, Elena confronts Damon about Stefan's disappearance. When Elena rejects his romantic advances and remains strongly stoically loyal to Stefan and her love for him, he refuses to help her find Stefan. Bonnie, who is believed to have psychic powers, uses magic to track down Stefan. The girls discover that Stefan is trapped in a well, close to death. After they resuce him, Elena gives him her blood to speed up his recovery. Because of the common belief that he has attacked area residents, Stefan still faces hostility in the town. Elena later later starts to recieve notes starting bits from her diary which was stolen at Bonnie's house. As Founder's Day approaches, Elena learns that Caroline Forbes has robbed her diary and is an accomplice of Tyler Smallwood. It is vital that Elena gets her diary back as the contents can be read as evidence that Stefan is a violent criminal. On night, Elena has a dream that Stefan finds out about the contents of her diary and leaves her with a look of disgust, fury and annoyance. This breaks Elena's heart and she makes sure that Stefan doesn't find out. Bonnie, Meredith, and Elena break into Caroline's house to search for the diary, but fail to find it as the Forbes' unexpectedly arrive back early from a night out at a restaurant. Elena cilmbs on to the roof of their house as she is trapped on the balcony of Caroline's parent's room. There, she sees Damon, who offers to help Elena's cause--if she gives him her blood and spends at least an hour with him willingly as he tells her he will eventually get that time with her--willingly or not. Damon is invited to Elena's house for Thanksgiving by Robert (Aunt Judith's finace). On that same night he comes back to the house where everyone is asleep, except for Elena. Damon tries to get into Elena's bedroom, however, the living room and Elena's bedroom were all that was left of the old house. Since Damon wasn't invited into either of the rooms, his face changes from confusion to anger to calm consideration. He then heads to Margaret's bedroom. Initially, she refuses to give into bait, but when he threatens to feed off her sister Elena helplessly gives in. Damon and Elena do a blood exchange. The next morning, Elena finds herself to still be alive, and from the moments she could remember Damon taking his shirt off to give Elena his blood. Soon after, Elena tells Stefan about the missing diary. Stefan tells Elena, that even if Caroline reveals the contents of Elena's diary to the whole town, because of his love for her, he will stay. On Founder's Day, when Caroline prepares to read the diary public, Elena learns that Damon has switched Elena's diary for Caroline's. Damon accepts Elena's thanks, but his satisfaction turns to anger when he hears about her engagment to Stefan. Aunt Judith and Robert are very furious and forbid Elena to go ahead with the marriage. Frustrated by their reactions, Elena storms off in Matt's car and soon detects that something is malovent about the weather. She tries to cross running water, as she thinks it will keep her safe, since supernatural beings cannot cross running water. As Elena is driving, the bridge splits and Elena falls in. She then drowns and later rises as a newly created vampire.
Ad blocker interference detected!
Wikia is a free-to-use site that makes money from advertising. We have a modified experience for viewers using ad blockers

Wikia is not accessible if you've made further modifications. Remove the custom ad blocker rule(s) and the page will load as expected.